This short story was previously in the anthology Chicks Kick But
It's been more than four years since Abby Wade survived capture and torture by a quartet of rogue shifters. Back then she was a scared kid, just trying to survive.
Now Abby is all grown up, and if she's learned anything from training with Faythe Sanders, the world's first female Alpha, it's that she can take care of herself—and anyone else who comes along. So when her college roommate is abducted from a campsite deep in the Appalachian woods, Abby knows exactly how to get her back…
The rules of the hunt are simple. Kill or be killed.
Abby Wade is not ready to die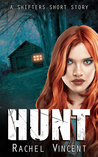 Hunt
by
Rachel Vincent
My rating:
5 of 5 stars
I loved Rachel Vincent's Stray series and was absolutely tickled when I learned that she was continuing with this world. And I am so glad that it contained Abby. I hated what was done to her in the Stray series. In this very short story we get a glimpse of how she is faring now and I was pleased that even though she was still having nightmares and flashbacks she is getting better. I also like that we get a glimpse of Jace and I am impatiently waiting for another full size story of theirs which is coming February 23. I bought this with my own money and I can't wait till Lion's Share releases.
View all my reviews